Beta95X V3 Whoop Quadcopter (HD Digital VTX)
1 309,00 zł – 1 349,00 zł
Description
Cieszymy się że możemy zaprezentować wam nową Betę, to już trzeci model tej generacji. To bezpośredni następca bety 95X V2. Zaprojektowany specjalnie pod kamerę SMO 4K. Model ten został wyposażony w zestaw Caddx Nebula HD!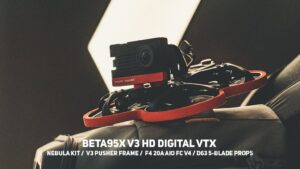 Bullet Point
Beta95X V3 nadaje się idealnie do kamery SMO 4K. Posiada wbudowane mocowanie na kamerę i kabel zasilający. Wystarczy że podłączysz kamerę do drona, żadnej zbędnej konfiguracji i modyfikowania drona.
Rama w stylu pusher wykonana z nylonu PA12 który słynie z wytrzymałości i właściwości absorpcyjnych. Dodatkowo ducty ramy wyłożone są pianką EVA.
Na pokładzie zainstalowano FC F4 20A oraz silniki 1106.
Obniżono środek ciężkości dla poprawy właściwości lotnych.
Specification
Produkt: Beta95X V3
Waga: 99.1g
WB: 95mm
FC: F4 AIO 20A Toothpick FC V4
Rama: Beta95X V3 Frame Kit
Silniki: 1106 3800KV BL
Props: Gemfan D63-3B (Gray) Gemfan D63 5-Blades Props
Camera: EOS Camera
FPV Camera Degree: 25°- 45°
HD digital camera & VTX: Caddx Nebula Nano HD System
Mocowanie kamery: SMO 4K camera Mount
Kąt mocowania kamery: 5°- 45°
Antena: Air 5.8GHz Antenna (LHCP)
Akumulator: 450mAh 4S battery
Konektor: XT30
Czas lotu: około 4.5min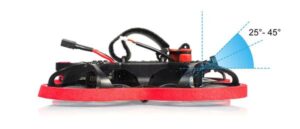 BETAFPV SMO 4K Camera
Meet the SMO 4K Camera - A high-degree ultralight action camera designed for your FPV Drones! Developed by BETAFPV using Insta360 technology, SMO 4K camera only weighs 30g and is perfectly fit for FPV drones. It allows pilots to fly faster, longer, and do more maneuvers, bringing pilots an extraordinary flying experience and a strong visual impact. Meanwhile, with 4K ultra-wide-angle shots and FlowState stabilization function, pilots can shoot 4K wide-angle video with greater details, and get an ultra-smooth and stable video, which makes the SMO 4K camera be the best choice for pilots in search of high-quality video with FPV drones!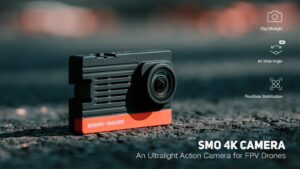 Nebula Nano HD System
Caddx Nebula to upgrade względem Caddx Vista, kamera jest znacznie lżejsza (24g)! Co Ty na to by latać w 720p/60fps?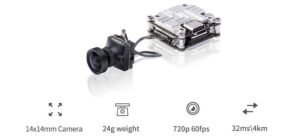 Beta95X V3 Pusher
Nowa rama typu pusher zaprojektowana przez BetaFpv to coś czego wcześniej nie było. Łączy niską wagę i wytrzymałość dzięki zastosowaniu nylonu PA12 który gwarantuje także świetne właściwości absorpcyjne drgań których chcemy się za wszelką cenę pozbyć.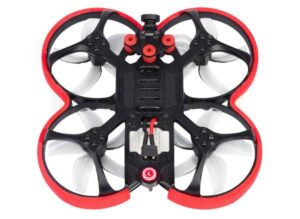 FC & ESC
Zestaw FC F4 oraz ESC 20A na jednej płytce gwarantuje niską wagę przy zachowaniu odpowiedniej wydajności. Ponadto w FC są piny które pozwalają łatwo podłączyć zestaw DJI HD.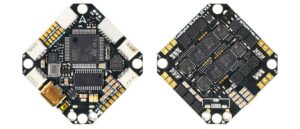 Motor & Props
Gemfan 5-blade – Beta zastosowała nowatorskie śmigła 5-łopatowe, redukują one wibracje przy niskich prędkościach obrotowych oraz więcej mocy.
Silniki 1106 2800 BL zapewniają wystarczającą ilość mocy przy dobrej wydajności i relatywnie małych wibracjach.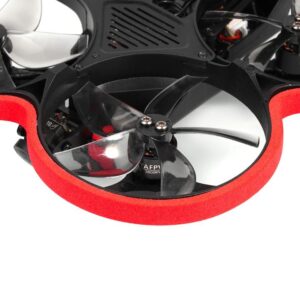 Package:
1x Beta95X V3 Whoop (HD Digital VTX)
1x Śmigła Gemfan D63 5-blades (2CW+2CCW)
1x 20mm mocowanie kamery FPV
1x Zapasowa pianka EVA
1x Adapter USB
1x TypeC Adapter kątowy
1x Adapter/kabel do Kamery typu Naked
Batteries and SMO 4K Camera are not included in the package. You can get it here for 450mAh 4S battery and SMO 4K camera.