F4 1S 5A AIO Kontroler Lotu
229,00 zł
Description
Ultralekki bezszczotkowy kontroler lotu F4 1S 5A AIO jest ponownie dostępny z nowymi i ulepszonymi funkcjami. W porównaniu z poprzednią wersją nowa płyta wykorzystuje Serial ExpressLRS 2.4G zamiast SPI ELRS 2.4G, dzięki czemu może obsługiwać ExpressLRS V3.0, a także ma wersję Frsky RX do wyboru. Zaktualizowaliśmy FC o wysokiej jakości żyroskop BMI270 i sprzęt BB51 ESC. Ponadto ta nowa płyta obsługuje funkcję Betaflight Blackbox.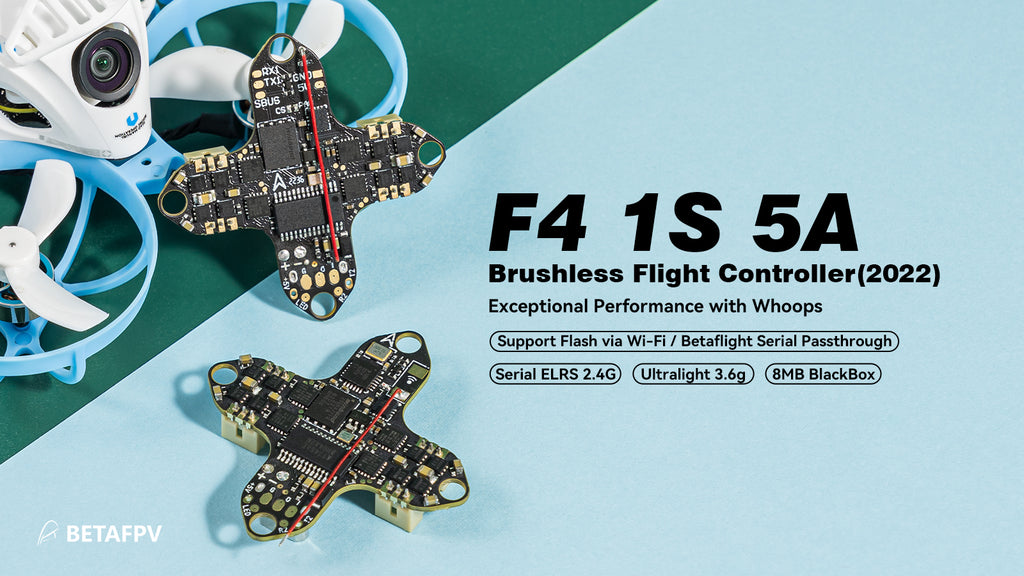 Specifications of FC
CPU: STM32F411CEU6 (100MHZ)
Six-Axis: BMI270
Built-in Receiver: Serial ExpressLRS 2.4G/SPI CC2500 (Frsky)
Receiver antenna: Line antenna
FC Size: 30*30mm
Mounting Hole Size: 26*26mm
Firmware version: betaflight_4.3.0_BETAFPVF411 (ELRS)/betaflight_4.2.11_BETAFPVF411RX (Frsky)
OSD: Built-in BetaFlight OSD
Blackbox: 8MB
Recommend VTX: >=200mW, like BETAFPV M03 350mW VTX or TBS Unify VTX
Power Cable: 55mm, with BT2.0 connector
Weight: 3.6g(ELRS)/3.7g(Frsky), without power cable and BT2.0 connector
Specifications of ESC
Power supply: 1S
Current: 5A continuous and peak 6A (3 seconds)
ESC firmware: A_X_5_.HEX for Bluejay BB51 hardware
Signal Support: D-shot150, D-shot300, D-shot600, Oneshot125, Multishot, PWM
Diagram of LiteRadio 2 SE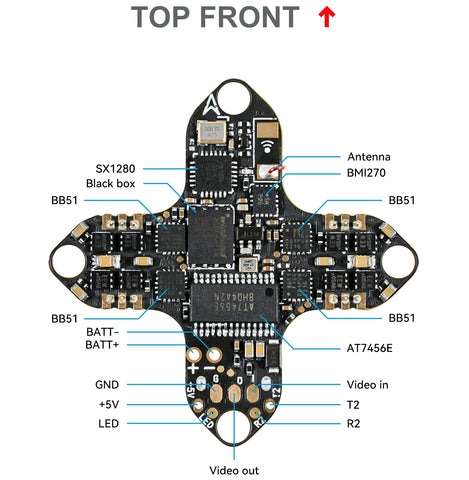 Below is the diagram for SPI Frsky RX.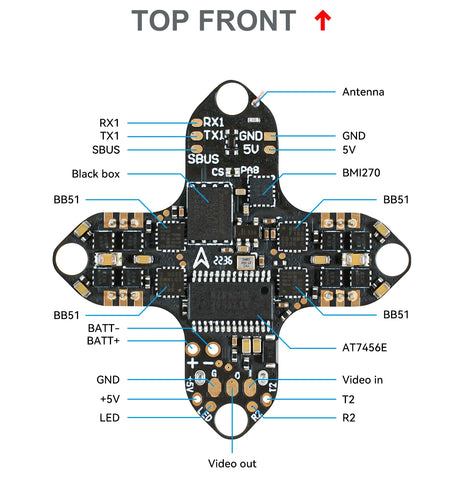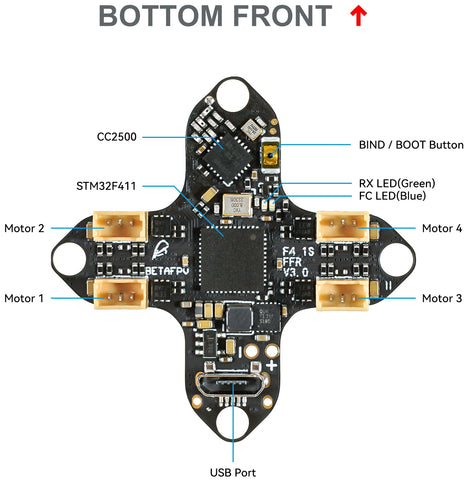 Oprogramowanie Betaflight i CLI
Bezszczotkowy kontroler lotu F4 1S 5A AIO jest dostarczany z domyślnym oprogramowaniem układowym betaflight_4.3.0_BETAFPVF411 (ELRS) lub betaflight_4.2.11_BETAFPVF411RX (Frsky). Domyślne oprogramowanie układowe dla wersji Serial ExpressLRS 2.4G RX obsługuje ELRS V2.4 RX.
Zwróć uwagę, W przypadku wersji Serial ExpressLRS 2.4G TYLKO oprogramowanie układowe Betaflight 4.3.0 i nowsze zaczyna obsługiwać ten żyroskop BMI270. W przypadku wersji SPI Frsky NIE WOLNO flashować innego oprogramowania, w przeciwnym razie RX straci kontrolę z bardzo bliskiej odległości. Zbudowaliśmy już własne oprogramowanie układowe betaflight_4.2.11_BETAFPVF411RX dla wersji SPI Frsky RX do obsługi żyroskopu BMI270. Sprawdź poniższy link, aby pobrać oprogramowanie układowe.
Oprogramowanie Bluejay ESC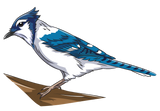 Dla pilotów, którzy chcą sflashować oprogramowanie Bluejay ESC dla F4 1S 5A FC, skorzystaj z BLHeliSuite16714902A_Beta lub ESC-Configurator i pobierz oprogramowanie Bluejay ESC A_X_5_.HEX z poniższych łączy.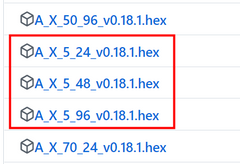 Podłączanie zewnętrznego RX/HD cyfrowego lub analogowego VTX
Zarówno wersja Serial ExpressLRS 2.4G RX, jak i SPI Frsky RX obsługują zewnętrzny cyfrowy HD VTX lub analogowy VTX. Należy pamiętać, że wersja SPI Frsky RX rezerwuje port SBUS i port UART, który jest dostępny dla odbiornika protokołu SBUS lub innych odbiorników zewnętrznych. Możesz odnieść się do poniższego obrazu.

Do pobrania:
Package
1 * F4 1S 5A AIO Kontroler lotu
4 * M1.2x4mm Śruby
4 * M1.4x5mm Śruby
4 * gumki antywibracyjne